It's important to put your health and well-being ahead of schoolwork when you're a college student. Taking good care of your body, mind, and spirit may do wonders for your success and happiness in life. In student life, college is an exciting and transformative stage that comes with new challenges and experiences like academic pressure, a hectic schedule and newfound freedom. The student should put their health and wellbeing first despite all these obstacles. By adopting healthy habits, students can enhance their health, develop their cognitive abilities and maximize their college experience. This article explores top health and wellness tips for college student's academic success and overall wellbeing.
Prioritize Sleep
College students have recognized the link between sleep and academic success. College students frequently stay up late to finish their projects and hang out with friends. Lack of sleep negatively impacts concentration, memory, mood and overall academic performance. Aiming for 7-9 hours of sleep each night to refresh your body and mind. To increase the quality of your sleep, establish a sleep schedule, reduce screen time before bed and create a relaxing environment.
Maintain a Balanced Diet
Make sure to start your day with a healthy meal, whether rising at noon or early in the morning for college. College campuses are notorious for their unhealthy food options and irregular eating habits. However, maintaining a well-balanced diet is crucial for energy levels, concentration and overall health. Incorporate fruits, vegetables, proteins and healthy fats into your meals. Avoid excessive caffeine, sugary snacks and junk foods. If it is possible, cook your meal to maintain a balanced diet.
Exercise Regularly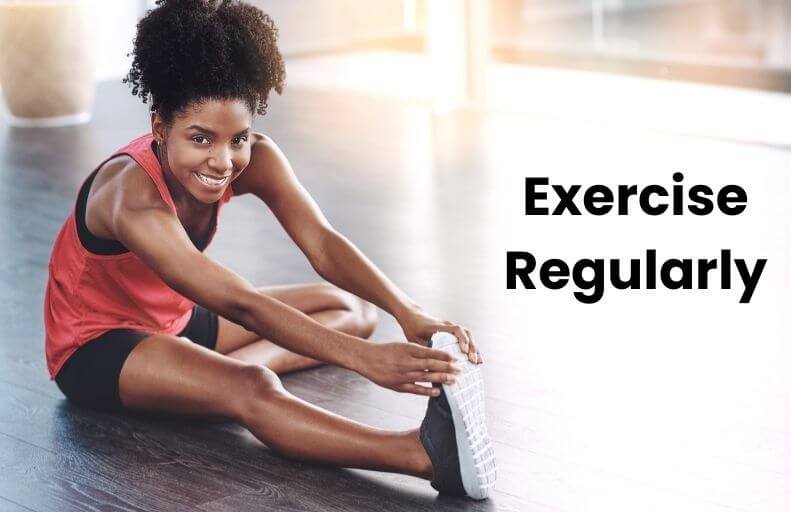 Exercise has advantages that go beyond improving a person's physical and mental health. Regular exercise lowers your stress, improves focus and generally enhances cognitive function. Include at least 120 minutes of moderately intense weekly activity in your schedule to achieve your fitness goals. To stay active and keep a healthy weight, sign up for a gym, attend fitness courses, partake in outdoor pursuits and check out the campus's recreational amenities.
Manage Stress
Exams, coursework, and social pressure can all be stressful aspects of college life. These obligations have negatively affected your mental health. practice relaxation techniques like meditation, yoga, and deep breathing to get good mental health. Incorporate peaceful and calming activities/hobbies such as crafting, painting, book reading, listening to music and many more to manage your stress. Ask for assistance from your college's counseling services or student wellness programs.
Stay Hydrated
Although it is simple to disregard the significance of being hydrated, dehydration can harm focus and cognitive function. Dehydration results in symptoms like headache, fatigue, mood swing, or you might feel over tired. Staying hydrated helps improve concentration and enhance short-term memory to get higher test scores. Limit sugary drinks because they contain empty calories, and instead, go for water as your main hydration source.
Practice Time Management
One of the hardest concerns for college students is juggling multiple tasks. Exhaustion and increased stress can be the results of poor time management. Schedule time for socializing, taking care of yourself, relaxing and participating in extracurricular activities. Set priorities for your daily task, divide them according to your schedule and complete each individually. This strategy will keep you organized and lower your stress levels.
Social Connections
For general well-being, maintaining social relationships is crucial. Building a network of friends and a support system during college is important. Take part in campus events, clubs and organizations with your interest. Be in the company of supportive people who share your values. Students with more social interaction can experience better social and academic experiences in college. It is important to value and encourage new and existing relationships for a successful and enjoyable college experience.
Take a Break and Practice Self-Care
The college always stresses everyone because of its academic pressure and overload coursework. Giving yourself a break from studying and engaging in activities you enjoy will help to distract your mind from a stressful routine and promote a sense of calm. Taking a break from a hectic routine can be useful to recover your energy when you feel drained. Sometimes our minds are exhausted, and new ideas approach is difficult. Therefore, you should take a break to return with a fresh mind and full of energy.
Get Regular Check Up
Visit your health care and get annual checkups, vaccination and any health concern. Get checkup can help you to monitor your health status and reduce the risk of illness. It helps to detect your potential and health condition increase chances to cure disease on early stage without wasting your time. Regular check crucial for health and overall wellbeing.
Conclusion
In conclusion, remember that taking care of your health and wellbeing is crucial for students. The road to maintain health and wellness are based on prioritizing sleep, eating a balanced diet, exercising regularly, managing stress, staying hydrated, time management, taking breaks, self-care and developing social connections. You may face the challenges of college life and excel academically if you include these suggestions in your daily routine. Adopt these top health and wellbeing tips to make your college years a time of transformation for your personal development and wellbeing