Human body needs protein as a building block to perform different function such as creating hormones, repairing damaged tissues, carrying oxygen, and preventing from infections. For proper body function you must consume crucial amino acids on daily basis. Quinoa and soy are two plant sources that are effective suppliers of amino acids. Even plant proteins that may have fewer of a certain important amino acid might still add to your daily amino acid intake. For your diet to have all the amino acids, it is important to ensure that you are eating a range of plant-based meals.
Essential Plant-Based Proteins Sources
For your nutritional need you can obtain all the proteins from natural resource. These proteins obtained from plants contain have a lot of benefits. Here are ten plant-based proteins that are not only delicious and wide-ranging, but also very nutritive.
Legumes
Tofu
Nuts
Soya product
Whole grains
Vegetables and leafy green
Nutritional Yeast
Chia seeds
Chickpeas
Spirulina
Quinoa
Tips For Eating More Plant-Based Proteins
Here are some basic tips for eating more plant-based proteins to maintain your healthy lifestyle and overall well-being.
Intake Plant-Based Proteins in Breakfast
There are many foods that are often consumed for breakfast, however the majority of them have a low protein content but a high amount of refined sugar and carbs. You should give some thought to including plant-based proteins into your morning routine in order to increase the likelihood that you will get the amount of protein and energy you need to go through the day. tofu, Chia pudding, and soy lattes are a few examples of foods that fall within this category.
Cooking with Plant-Based Proteins
Cook a meal having lots of plant-based proteins and satisfied your protein requirements. Add bean into your meal is best protein source. It is quite simple to make bean, chillis and soup that add more protein to your meal. Incorporating beans into various dishes like wraps, salads and stir-fries can enhance their taste and play role as an energy booster. Additionally, it is beneficial to include protein rich food like tofu, soya beans, edamame, soymilk, and tempeh regularly.
Use whole grains and seeds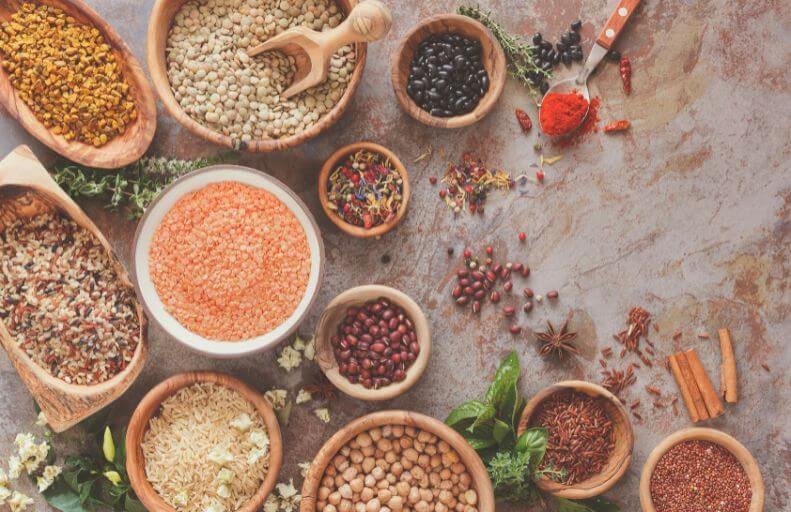 Seeds such as flex seeds and seeds of sunflower has protein. A vegetable names as pumpkin has seeds that are rich in the protein. You can use them in your diet to mix with salads and garnishes them on your favorite soup. Must take protein rich grains in your diet such as brown rice. You can add spelt dishes into your meals as a side dish.
Add legumes into your meals
Legumes are one of the best sources of plant-based protein. Legumes include chickpeas, edamame, peas, nuts and beans. Except protein legumes also contain vitamins, minerals, fibers and antioxidants. Proteins and fiber present in legumes make you feel full whole day. Adding legumes into your diet have benefits its lower the risk of diabetes.
Try Plant Based Protein Supplements
A bowl of oatmeal is a healthy option for protein additive for a morning. Vegan protein powder manufactured from plant sources like soy, almond, pea, and hemp seeds can be an additional protein in your breakfast. Amount of powder depends on the protein powder you use. Protein powders are not essential for health, they can be beneficial in case where it is challenging to consume enough of protein.
Use of Nuts and seeds
Nuts and seeds are great source of protein. You can add them in dishes, sprinkle them on cereals and blend into smoothies. Nuts like walnut, peanuts, almond have lots of protein and fiber. You can use nuts and seeds in baking such as almonds or grinded flex seeds. You can use them to enhance your flavor in sandwiches toast or as a dip for fruits and vegetable.
Take Plant Based Milk Alternatives
You can use milk alternatives such as soy milk and pea milk or almond milk. These are food that are plant based and give high protein. These milks have great flavor and also good for overall wellbeing. Because they act as anti-inflammation and anti-oxidant for body.
Eat Leafy Vegetables
While leafy green vegetables are not that much rich in the protein but they provide a limited amount of protein which is totally plant based. You can eat leafy greens vegetables such as spinach and kale. You can easily take them with your regular meal such as in salads and smoothies.
Use Fruits and Chia Seeds in Your Diet
Fruit such as green peas can be used in your diet as side dish. It provides the protein which is totally plant based. On the other hand, you can use chia seeds in your drinks and smoothies. These are tiny seeds which is totally packed with the protein.
Conclusion
Human body needs protein in their diet because it is very important in the formation of many hormones and significant for the proper functioning of the body. You can also take them from plants and seeds instead of meat. You can take them from seeds such as chia and flex seeds. You can take them from milk such as almond and soy milk. Take these protein rich foods with your diet as salad or side dish.